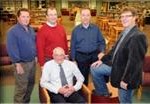 Welcome to the Friends of Coach Raffin Website, a site dedicated to reconnecting friends and former athletes of Duane Raffin, Holly High School track and cross country coach. If Coach Raffin made an impression on your life, we'd love to hear your story.
Coach Raffin spent his entire career at Holly High School.  He was an English teacher for 31 years and a coach for 38 years.  Coach Raffin retired in 1999 and remained an active volunteer in the Holly track and country programs until his passing on March 29, 2010.
A group of former athletes are sponsoring this site in hopes of reconnecting with others who were inspired by Coach Raffin, and encouraging them to make a gift to the Coach Raffin Scholarship Fund, a component fund of The Community Foundation of Greater Flint.
"If you were on one of Coach Raff's teams, you did not just participate.  You became a Holly Harrier," said John Buckley of the Class of 1978.  "You didn't just run for Coach Raff, you ran over hill and over dale … like your pants were on fire, and on race day made sure that the tank was empty when you crossed the finish line.  You did not just wear a uniform – you manned the Red and White of the Holly Bronchos.  The message was clear – running for Raff was special.  If you ran for Raff, you were special.  And he proved it time and time again by molding ordinary individuals into great runners."
Coach Raffin transformed hundreds of athletes into great runners.
Jeff Lewis, Class of 1978, said Coach Raff made sure he knew each kid and what made them tick.  "I don't know if his passion was as much for the sport as it was for making sure than every kid that went out performed to their potential.  For me personally, I had a lot of talent, but not a lot of confidence," Lewis said.  "I always thought everyone else was better.  Raff knew this and for the four years I ran track, he perfectly balanced throwing clipboards at me in anger with an arm around my shoulder and a few words of quiet encouragement."
If you have been encouraged by Coach Duane Raffin, we invite you to explore this site, and consider making a gift to the Coach Raffin Scholarship Fund.