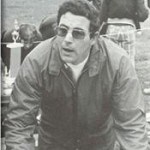 The Coach Raffin Scholarship Fund, a component fund of the Community Foundation of Greater Flint, was established in 2008 by five former track and cross country athletes who were coached by "Raff". These five athletes are Bill Ballard, John Buckley, Roger Coleman, Tom Flanigan and Jeff Lewis and are from the 1977 and 1978 graduating classes of Holly High School.
This group established the scholarship fund to honor Coach Raffin and to continue the legacy of the values that he taught his athletes over the years. These values included: the importance of preparation, the power of a positive mental attitude, the value of hard work, and the results that can be achieved through perseverance.
The scholarship fund has been created through The Community Foundation of Greater Flint. The goal is for an annual scholarship to be given each year to a graduating senior who was on the cross country or track and field teams at Holly High School. The scholarship can be used for tuition and expenses for higher education (trade school, junior college or college). Click here to see the details on the scholarship criteria and Advisory Selection Committee.
The goal is to raise $100,000 for the scholarship fund and to pay out an annual scholarship of $3,000 to $5,000. The annual scholarship will be paid from the income earned on the fund. The scholarship will be awarded each year in perpetuity. The first scholarship will be awarded after the fund reaches a minimum of $50,000. All contributions will be tax deductible. IN ADDITION, RESIDENTS OF MICHIGAN CAN OBTAIN UP TO A $200 TAX CREDIT FOR CONTRIBUTIONS. THIS IS A CREDIT, AS OPPOSED TO JUST A DEDUCTION.
If Coach Raffin has had a positive impact on your life or someone you know, and you would like to honor him by contributing to the Coach Raffin Scholarship Fund, please click here for information on how to donate online or by mail.